Covid-19 Booster Doses
The Chichester Alliance of Medical Practices (ChAMP) Primary Care Network is running a site at Sidlesham Football Club from the beginning of October for Covid-19 booster vaccinations. The National Team will be operating from the Festival Theatre car park in central Chichester (the Westgate site has now closed).
You will be contacted to book an appointment by phone, text or letter when allocation becomes available for your cohort.
Please do not call the surgery for an appointment; the bookings team will contact you.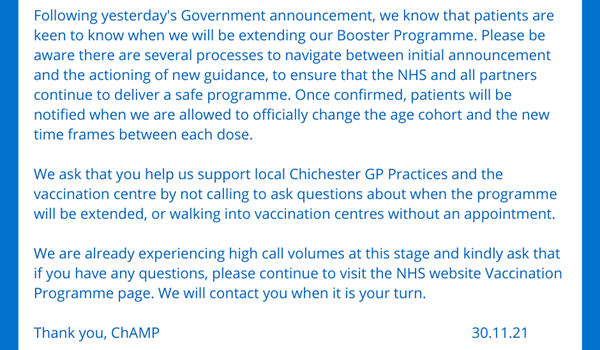 Vaccine "Passports" and Proof of Vaccination
If you need a way of demonstrating evidence of your vaccination status, you can do so via the NHS App:
https://www.nhs.uk/nhs-services/online-services/nhs-app/ (or search for "NHS App")
Please note: The NHS App is separate to the NHS COVID-19 App (which is used for contact tracing).
Once you have downloaded the App and registered, you can view your vaccination status.
The App can generate a QR code to show on your phone or you can download a PDF vaccination certificate which you can print out.
The Government website suggests that "You can show your COVID-19 vaccination status as proof of your status when travelling abroad".
The NHS App is nothing to do with General Practice and Selsey Medical Practice are unable to provide help or technical support. If you need help please visit the NHS website:
https://www.nhs.uk/nhs-services/online-services/nhs-app/nhs-app-help-and-support/